Modern.
Classic.
Looks great in any decor.
Found at the world's leading companies and small businesses
From freelancers to Fortune 100 giants, BusyBox products are being snapped up to ramp up productivity & professionalism. Discover why we're fast becoming a "go-to" in office and WFH productivity tool.
"BusyBox is used by every attorney and billable staffer in our firm. The ROI stems from its capacity to fortify focus time on detailed documents. Additionally, it prevents any 'Zoom bombs' from occurring during important client calls. We wholeheartedly endorse it."
a 3 second interruption
Science shows, a 3 second interruption breaks your focus and ...
Minute setback
... that 3 second interruption sets you back 23 minutes (UC Irivine).

why do we allow it?
It's kind of insane, right? Take control of your space and get done sooner.
"
Frequent interruptions also prevent you from attaining a state of flow – a state of complete immersion in an activity that has been positively associated with increased happiness, better emotional regulation and greater creativity, among other benefits.

"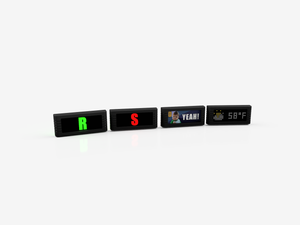 Smart. Choices.
Starting at $49!
4 models to choose from
You can choose the product that meets your needs today, and into the future.
Simple to Sophisticated
BusyBox R is our most affordable model. BusyBox S is our most popular model. BusyBox D is our most fun and flexible. BusyBox P is our most 8-bit model.
GET IT? Get It. >>
You get it already? Wow! Let's go!
Find your perfect features and model.
Take me to all models

Illuminating reviews
We see it all the time
You can join the ever growing family of thrilled customers who own a BusyBox, and can't imagine living without one.
The Best Thing I've Ever Bought For My Home Office

⭐️⭐️⭐️⭐️⭐️

The soft glow of the electric sign telling them "daddy is working" apparently is enough to convince my kids to turn around and handle their own business. I can't believe how magically it has worked.

— 

apmusicman (Amazon)
This is the perfect solution

⭐️⭐️⭐️⭐️⭐️

My bride loves the sign too, as it lets her know if I'm in a recording session or conference call and shouldn't be interrupted.  

— 

DARREN MARLAR Weird Darkness
a very efficient and well developed product

⭐️⭐️⭐️⭐️⭐️

I like the product, my family really likes it, and have no qualms recommending it to other developers and WFH parents.

— 

Amanda Luciano (Amazon)
Love this!

⭐️⭐️⭐️⭐️⭐️

I have this in the background of my YouTube videos and I absolutely love it!

— 

Albert Fortner (Amazon)
Blown Away By the quality

⭐️⭐️⭐️⭐️⭐️

I'm blown away by the quality of this device and how well it works. Everyone needs to get one if you're in the Voice Over business, or any business that works from home.

— 

David Kaplan, Voice On The Run, Inc.
Great sign for office

⭐️⭐️⭐️⭐️⭐️

I highly recommend the BusyBox. Not only is it cute and flashy, the customer service is top notch. The BusyBox has a lifetime warranty and they truly honor it.

— 

shannonigans (Amazon)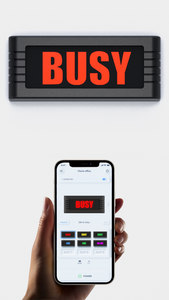 It works.
So you can work.
A sign they can't overlook!
Tired of everyone missing your Do Not Disturb door hanger sign? This easy-to-use sign sends the right message to stop interrupters in their tracks.
You're in Control
Update the settings of our LED door sign with a simple touch. The easy-to-use app lets you select colors, adjust brightness, create presets, or group multiple BusyBoxes together.
Sturdy as it is stylish
BusyBoxes are not your momma's office door signs! Our startup is dedicated to creating state-of-the-art, high-quality products for content creators, eLearning and work-from-home professionals. Our LIFETIME WARRANTY means you can buy worry free.
Charged up!
BusyBoxes are made with long-lasting rechargeable batteries so you can leave them up all day ... or all week ... on a single charge. The BusyBox S runs over 120 hours on a single charge! Get a BusyBox so you can get things done all week recharge on the weekends.
hands-free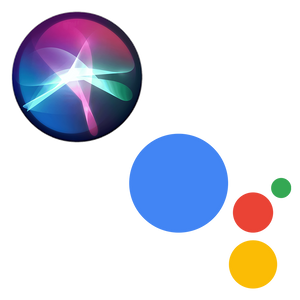 "Hey siri, turn on busybox."
Use Siri, or Google assistant to control your BusyBox smart sign.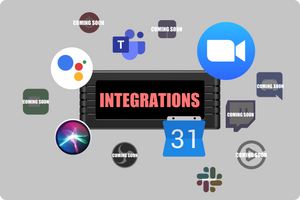 Integrations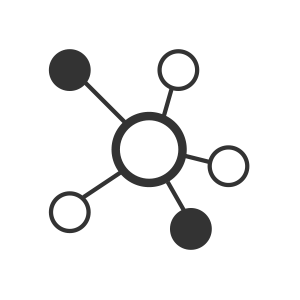 automate your work
Streamline life with BusyBox! Avoid video call interruptions and forgotten status updates. Sync BusyBox with your calendar and it'll manage your availability. As commitments arise, BusyBox ensures your status is updated. Control your professionalism by going hands free with your availability updates.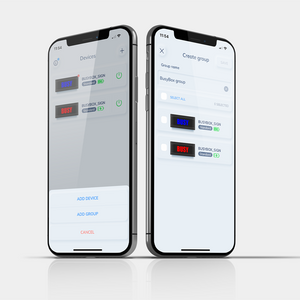 Grouping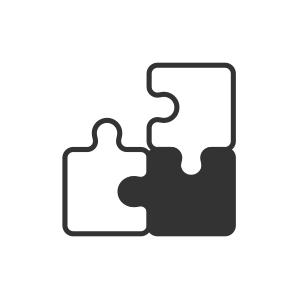 2 is better than 1
BusyBox signs can work alone, or together as a team. Use the "grouping" feature in the control app to turn multiple BusyBoxes ON/OFF at the same time.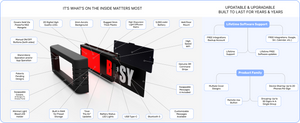 An inside secret
BUSY on the inside
The stylish exterior is hiding a feature & technology packed interior.
UPDATABLE & UPGRADABLE
We don't build "planned obsolescence" products. Period. Your BusyBox sign is designed to run for years and years and years and ... you get the message.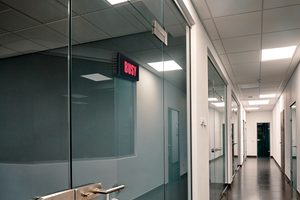 Bulk Buy Savings
We offer bulk buy discounts, branded/customized covers, and one-on-one support for corporate buyers. Please email us to learn more.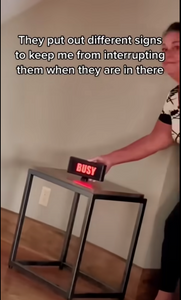 29 Million Views ... And growing!
Watch this fun by content creator Riley Doing Things.
25M on YouTube, 4M on TikTok and growing!
Riley uses the BusyBox when he is editing his videos and he contacted us and created this for BusyBox. He's a funny and talented person.
See The Viral Video
Let's work. Together.
We offer a LIFETIME WARRANTY, a 30 day worry free return policy and lifetime of FREE sofware updates.
If you're not 100% satisfied, we are not satisfied, and we'll make it right with you. We've got your back so let's team up.
Common Questions ... and Answers