Product Information (Our Story)
Weekly(ish) Update
Nov 22, 2020
Hey backers!  Here is your weekly update from the BusyBox team.
There is a LOT going on right now at the factory and not nearly as much going on for the team, other than continuing to advance the software.  It's a nice feeling that they are doing their job, but, we like it when things are fully in our control.  They've been really good to us.  As a new (and small) customer they have been really great at keeping our product moving ahead during a busy time of year for them.  October and November are their busiest months.  
The current news from the factory is that we are set to begin BusyBox S production on December first.  They have secured all the parts they need and they have scheduled a block of time on the factory floor to build our first production run. For the BusyBox D we have ordered all the LCD displays and are waiting for a date from the factory on when they will arrive so we can build the first wave of BusyBox D's.  We expect something concrete from them Monday our time.  
Given that we are ready for production and waiting on the factory, we are starting to do a bit more advertising.  You'll see bit more of our advertising from time to time during the Black Friday to Cyber Monday period.  Then we'll slow it down again for a while.  Some of the new ads are pretty fun in my opinion, so feel free to share them with your friends and feeds.  
Thanks go out to all of you who are helping us with the support online and in emails saying "hang in there" and "we'll be patiently waiting."  It helps keep us sane.  For us, it's a stressful time because we have basically nothing more to do t get to production; we are waiting for the factory.  We use the time to continue to test, write software and improve the app by adding features, but now our role is relegated to weekly calls and daily emails asking "how is it going, do you need anything from us?"  
Oh, and a quick heads up. We're going to be slowly shutting down the Indiegogo site as we start shipping product out to all you backers.  We want to turn off the backer pricing and bundles, but we also want to give you plenty of opportunity to get as many BusyBox signs and accessories at backer pricing as you want.  As you see the ship dates change on Indiegogo to January and February, that will be for NEW orders.  We're shipping things in a first come, first shipped order so if you have split orders we will do our best to combine the orders, but we may have to ship the second order later. 
Since we are getting closer to shipping product, we'd like to walk you through the process that is coming your way.  First, as we get closer to shipping we will send you an email asking you to confirm your "ship to" address.  Then, once that is confirmed and we have product in the US, we will bundle (as needed) and ship your product(s) to you and send you a tracking number for the shipment.   So two steps.  We'll walk you through it when it happens. 
Have a great week and a fun turkey time!   And, as always, thank you so much for your support of BusyBox!
Steve and the team.  
____________________________________
Weekly(ish) update. Good progress, dodged a battery bullet
Nov 15, 2020
Hey everyone! 
What was supposed to be a quiet week of ordering parts and lining up our first production run for BusyBox S turned into a crazy week of scrambling ... but we got it all worked out by the end of the week.
Just when you think you're in good shape, the universe ... the 2020 universe no less ... comes in and throws you a surprise.  We found out on Tuesday of last week that our battery supplier would NOT be able to supply us batteries for the BusyBox.  We are not certain as to why, but our best guess is that one of their bigger customers needed more and so the small company (us) got kicked to the curb.  It happens a lot to small companies, and small companies have to react to it ... so we did with the help of our factory.
Luckily our factory got to work on the issue right away and found a new supplier for our very uniquely sized batteries.  We confirmed that the new supplier's batteries will work right away.  Now we have to restart our testing and certification of the battery, but as of right now, it'll still get done within our current schedule.  There is NEVER a dull week when you're in product development.  
We finished up the packaging design too last week.  We kept it pretty simple for now and maybe in 2021 when we're selling on Amazon and other retailers, we'll spruce it up a bit.  
Lastly, we are upgrading the durability of the BusyBox S signs.  In early cycle testing, over more than 1,000 cycles, a pinhole can develop that allows light to weep through (see the image below).  So we worked with the factory that makes the signs and they are going to double down on the process and make the signs even more durable. Also, we found a cool way to make the signs slide in and out a bit smoother without adding any cost to the product.  Product people and nerdy engineers (like us) love it when we find ways to improve the product that doesn't add cost.  That's a win for customers and a win for the company.
Have a great week and thanks for your support!
Your BusyBox team.
Steve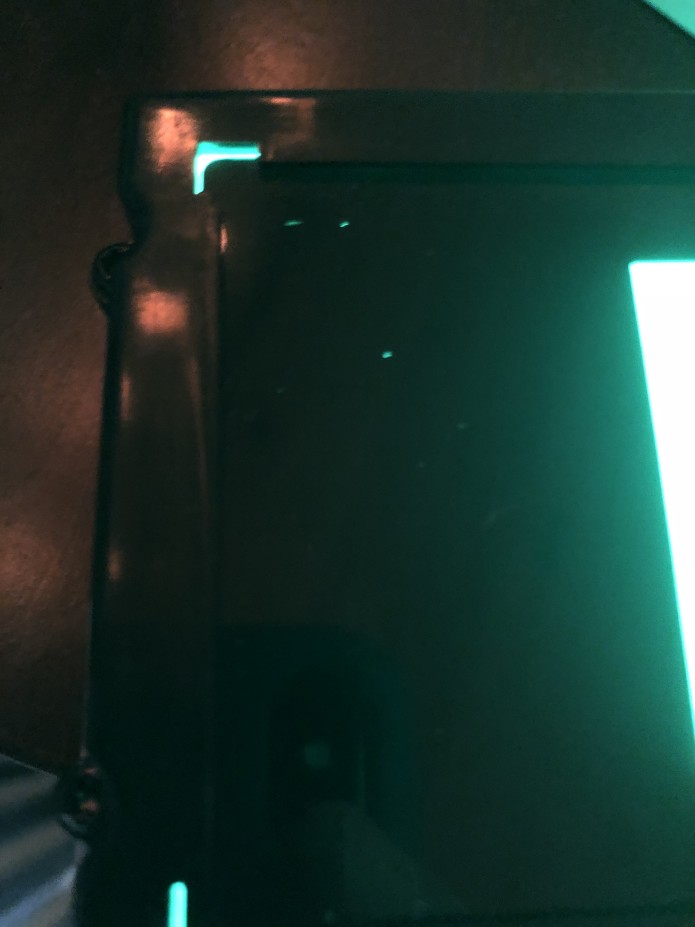 ____________________________________
Weekly(ish) update. Making progress & shipping anxiety
Nov 9, 2020
Hey everyone,  here is this week's update.  
Last week we had a great week with the software development work and the factory has ordered all the parts we need to build all of the BusyBox S units we will need to fulfill all the campaign orders and we'll build some additional units to sell at Christmas and in January as we move beyond being in our "campaign" phase to normal business" phase. 
We finished up all the BusyBox D USB-C fast charge testing ... which was extensive and exhaustive, the engineering team worked many long nights and weekends during the last two weeks.  Luckily, they all like coffee. ;-)
And, though it's not impacting our BusyBox schedule, we had yet another shipment get stuck, this time for 15 days and this time it wasn't FedEx, it was with DHL.  Ugh.  Luckily this was not a critical path item, but it reminded us that we need to stay on top of shipping options and planning. 
We'll have the factory take some pictures during next week's pilot production run and post them next update.  
Sorry for the quick updated … here's another photo of the BusyBoxes going through constant charging cycles to test battery reliability.  It's been nearly a month straight for these units … full charge to full empty, again and again.
Steve & the team
PS The consistency and evenness of the BusyBox S is sooooo good.  We are so happy with the way our light diffuser matrix is working.   Can't wait to get these to you guys!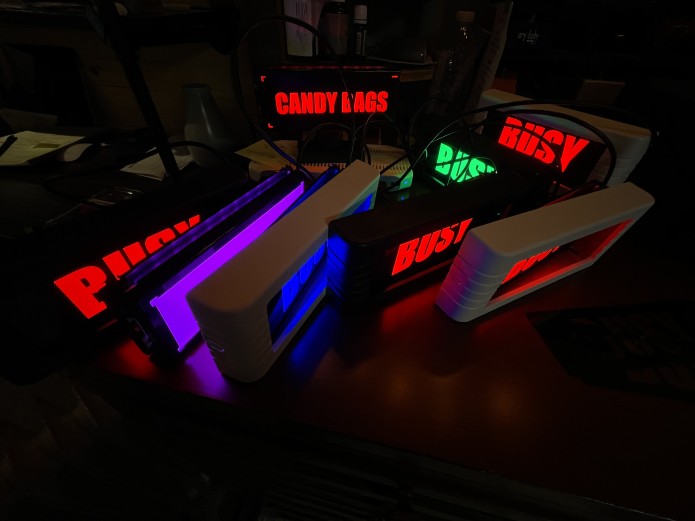 ____________________________________
November 1 BusyBox Update
Nov 1, 2020
Hi everyone,
Here is another (almost) weekly update. 
Check this out, My wife said, "Hey, let's make some messages on the BusyBox and put them out for the trick-or-treaters ... if we get any."  We used our Cricut vinyl cutter and made some fun Halloween themed signs. [FWIW, we did get a few cute kids who came by and grabbed the bags we put out on a table in the driveway.]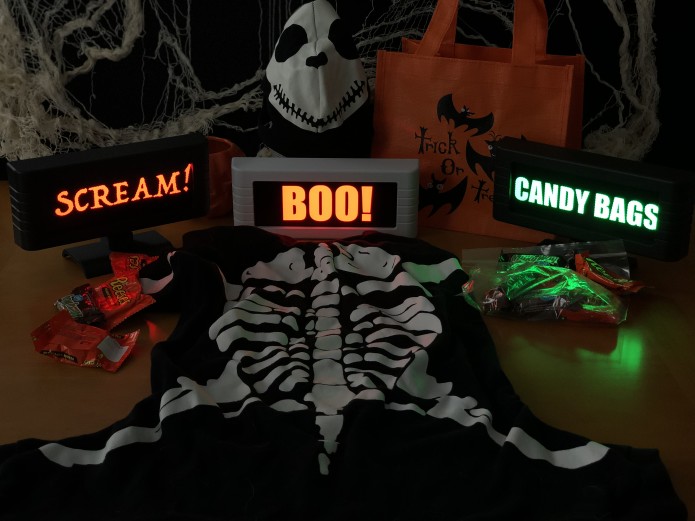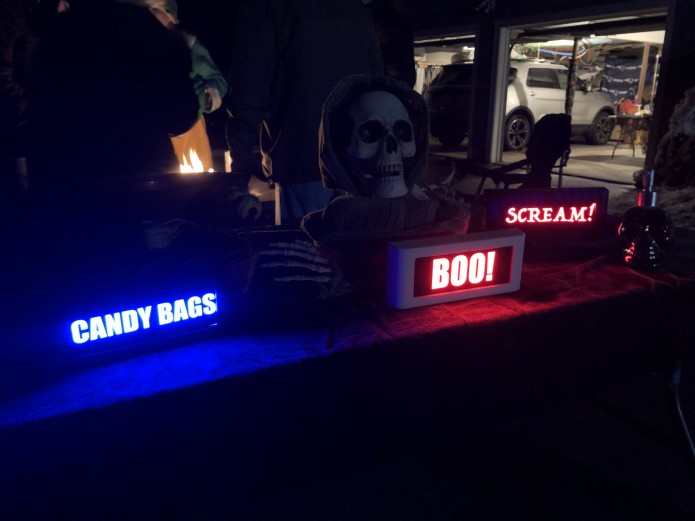 From the factory: We are getting ready to do our first production run mid-November.  It'll be a small amount of BusyBox S product (less than 100) that we will build assuming that goes well, we will be able to go full speed ahead with BusyBox S production. Some of these units will be made available for press to drive awareness of our products as well as more beta testing. 
To Beta testers, sorry that we have not sent out the test units from the last run yet.  They are working well, but there is still more battery optimization work that needs to be done before we can send them out.  We spent a good part of last week testing and cycling the batteries in various temperature environments and with different chargers.  
We anticipate that the BusyBox D is going to have it's first proto run around Thanksgiving.  It's running behind the S, but that is part of our plan.  The plastics are the same for both models, so getting the plastics dialed in means we can go faster with both.  The chipset we're using for the display has been giving us issues (undocumented and/or missing code blocks) but the software guys have showered the internet and figured out how to make thing work smoother and smoother each week so we feel good now about building the circuit boards.  
As I write this I'm watching football and noticing the FedEx ads about shipping challenges coming up for the holiday season.  It's a clear reminder to us that we need to stay on top of our shipping options in the weeks ahead.  We will remain vigilant with shipping research; 2020 is a complete dumpster fire for shipping and we are going to do our best to navigate the challenges that lay ahead.  
We've had some really great questions asked by our backers about how things came together, and a lot of compliments about the product and how they want to use it.  Keep those questions coming.  Also, we've had a lot of fellow entrepreneurs ask about our story and path to this point.  So we're going to start doing more updates that are about the business,  including a bit more of our backstory and more detailed information of how things came together, as well as product updates.  We'll keep them seperate so you can choose the one (or both) that matter most to you.  
Have a great week everyone.  Keep busy!
____________________________________
Sunday Afternoon survey. 
Oct 25, 2020
Hi everyone,
We are hoping you'll take a minute of your time and answer a one question survey.  Imagine you're buying your first BusyBox, and it doesn't come with both a black and a white cover, which cover color is right for you?
Here's the survey link and thanks for your help. https://forms.gle/z3Sg3YYmMohnxLZL6
Steve and the BusyBox team.
PS Note, campaign buyers get both the white and black radio cover, so this survey does not apply to you if you've supported us on Indiegogo. 
____________________________________
UPDATE 10-24-2020 ... another 2020 sucks item.
UPDATE!  10/24/2020 ... TL;DR We finally got our samples out of FedEx hell.  The product is looking great, working well and "Shipmageddon" is real ... so we're moving our target ship date back. 
First the bad news.  There is no way next week we will be able to get BusyBox signs out to anyone in October.  Ugh.  We've run into three schedule/timing issues that make shipments in October irresponsible at best, impossible at worst, and what's more discouraging is that November is unlikely even if we have the product 100% done, sitting in boxes ready to go in three weeks.  Here are the details...
First, the factory ordered the wrong side firing LEDs (behind the buttons) and we have to reorder all of the parts and repair all the prototypes. The side firing LEDS (not the light LEDs) are used to confirm your bluetooth connection and give you a "low battery" indication on the BusyBox sign.  See the photo below.  See that little black box inside the LED, that's what we need.  See the one without the black box inside, that's what the factory got from their supplier.  This is not a big deal in the long run, but an annoying little delay in our build schedule as we have to get replacement parts shipped to the factory and send the old ones back..
Second, as many of you may recall, we had planned on getting our "final checking and beta testing" products the first week of October and they arrived late last week, so we ended up losing about 3.5 weeks thanks to a stuck shipment we shared in the last update.  It kind of speaks to where we are right now with shipping all over the world which leads to… 
Third, shipmageddon is real and small companies like ours are not getting straight answers.  It sounds like the amount of PPE that is being shipped right now is crushing the entire system.  One guy told me half joking that "They can't make boats, planes, and trucks fast enough."  Hospitals are obviously going through a lot of PPE every week, but so are restaurants, banks, coffee shops, etc., etc.. Normally a shipment from Taiwan/Asia in October November is hard, especially for small companies, but it's doable because there is usually excess shipping capacity that can be found.  But right now we are seeing something different.  I was sure that we could find a spot at the start of the month, this is not my first rodeo, and we've spent a lot of time last week and this week seeking clarity on shipping options for early November, but we are not getting clear answers from the factory or the other friends we have in the freight business.  They all basically say, "We don't know.  We've never seen anything like this before."  Even my brother-in-law who works as an executive in a huge box making company said, "We are at max capacity and companies are asking for more packaging ... we just can't make stuff fast enough and we are not going to meet demand."   It's probably not a big deal for Apple, Amazon, Walmart and all the other big guys who are already huge customers for all the freight companies, but I don't have a lot of confidence based on what we are hearing.  Keep in mind, Maybe this year it'll be better to give gift cards or the holidays. ;-)
So, I decided Thursday after our weekly call with the factory to tell everyone we are pushing back the expected ship date until  early December.  Ugh.  We are DEFINITELY going to be asking for  "standby mode" but I have to be realistic, and tell you all what I think is accurate.  I believe that PPE, Amazon and Walmart are going to grab up any excess shipping capacity available in November for Black Friday-Cyber Monday (which may be the biggest ever).    If we can ship early we will, but I don't want to promise November, I'd rather say December and try and surprise everyone with an early shipment. 
The hardest part of managing a team of driven, motivated people is to miss the mark and find out you can't deliver in spite of all your planning, weekends, and late nights, but the reality is sometimes you just don't get to deliver when you want.  The Engineering team is mad at me for pushing our ship date targets back to December, but a) the reality is that we are a new, tiny company and have very little pull and b) we can use this time well to make sure these products are greatly tested, add more features and give more time to our beta testers before we ship.  "Turning a lemon into lemonade" as the idiom goes.  
The most important thing to do now is to use this time to test more and focus on making them incredibly robust.  We can (and will) use Shimpmageddon to our advantage by doing more testing and adding more features into the software.   There is a saying in product development that goes something like this: "If the baby is beautiful, nobody remembers how hard and long the delivery was."   Our focus remains on making sure these "babies" are beautiful.   
Now that we've gotten the bad news out of the way, let's focus on some good news.  The software guys FINALLY got their BusyBoxes late last week and have been testing them thoroughly.  They've made great progress with the firmware checking the battery charge and discharge rate & current, so we can optimize the USB-C fast charge capabilities.  For those of you who are techie, yes, these are USB-C fast charge enabled. Woot! ?  That means the BusyBox will charge in a few hours, instead of overnight and get to a 50% charge very fast, like less than 30 minutes. 
Next week we are doing a lot of testing of the Buttons & mesh networking and continuing to refine the App software (Android and iOS) which I think is looking great.  And the factory is preparing to build a few thousand BusyBoxes. 
With this delay in shipping we are going to double down on getting cool software features done in the app.  Things that we were planning to add later, we'll add now.  If the hardware can't ship, we want to make up for the lost time by adding more features to the initial app release.  It won't completely make up for the disappointment from this delay, but we'll try to make it "worth it" in the end. 
For our Beta Testers.  Hang in there a bit longer.  This LED issue needs to be fixed so that you can have a great experience with the product.  We'll start contacting folks as soon as the factory tells us when they can get us the right LEDs and we can repair our existing samples.  
Sorry we didn't do an update last week.  We just kept getting conflicting shipping information.  This week we realized that information is only getting worse as we come into Black Friday/Cyber Monday shipping time (now and for the next 6 weeks).
I wish we had better news, but this is our reality.  Hang in there.  We promise it'll be worth it. 
Steve and the BusyBox team.
____________________________________
Update: We have freed the stuck package! 
Oct 16, 2020
Hey gang,
Here is a quick update on the stuck proto product package.  With the help of our supporters we have got the package moving again.  Thank you!   It's scheduled to arrive with the software team next Friday ... which is not fast (we paid for fast) but we are glad it's moving again (it left the factory on the 28th of September.)
We are working on updating our schedule, and revising the plan for getting units out to beta testers, so we will have a full update coming to everyone in the next couple days.  We are not on a normal schedule anymore and we are looking for ways to make up some of the lost time. 
Thanks again to the supporters who helped us get these packages.  Have a great Friday,
Steve & the BusyBox team
PS We want to share a bit of advice from the friends/supporters whom we spoke with about shipping in the fall of 2020 ... it's a HUGE mess right now.  So do your holiday shopping early and be prepared to wait, whether you're getting a new Alexa, a Bose speaker, a new phone or anything else that requires shipping.  It may be best to call it "the year of the gift card" this holiday season.  #ugh2020
____________________________________
October 12 Update: Shipping experts. We need your guidance. 
Oct 12, 2020
October 12 Update: Shipping experts. We need your guidance.
Do any of you work for FedEx or have expertise in expedited shipments that are stuck? Our pilot BusyBoxes have been "pending" with FedEx since September 29th and we can't seem to find a way to get them to move. They got to France on the 30th and have not moved since. The people at FedEx are trying to help but the they seem to have limited ability to actually move the package and we can't seem to get an local person to call us back or email us and tell us what they need from us ... but clearly something has happened to our pilot product shipments and it's SUPER frustrating right now.
Please email me at steve at busyboxsign dotcom if you have expertise in international shipments. 
FWIW, we've shipped successfully many, many times; this is some kind of weird circumstance like maybe the truck went in a ditch or they don't want to tell us the shipment is lost.  We just need a bit of clarity/transparency so we can move to rebuild the product or hang tight for a day or two.  
We did get some of the product (photo below) which I've been testing, but now I'm probably going to have to ship these to the software guy which redirects beta testing stock (we will still beta test).   By the way, the beta testing products came out great and look gorgeous in the hand.   I'll put some more photos up later in the week. The light is sooooooooo even and rich.  
Any help with the package is GREATLY appreciated.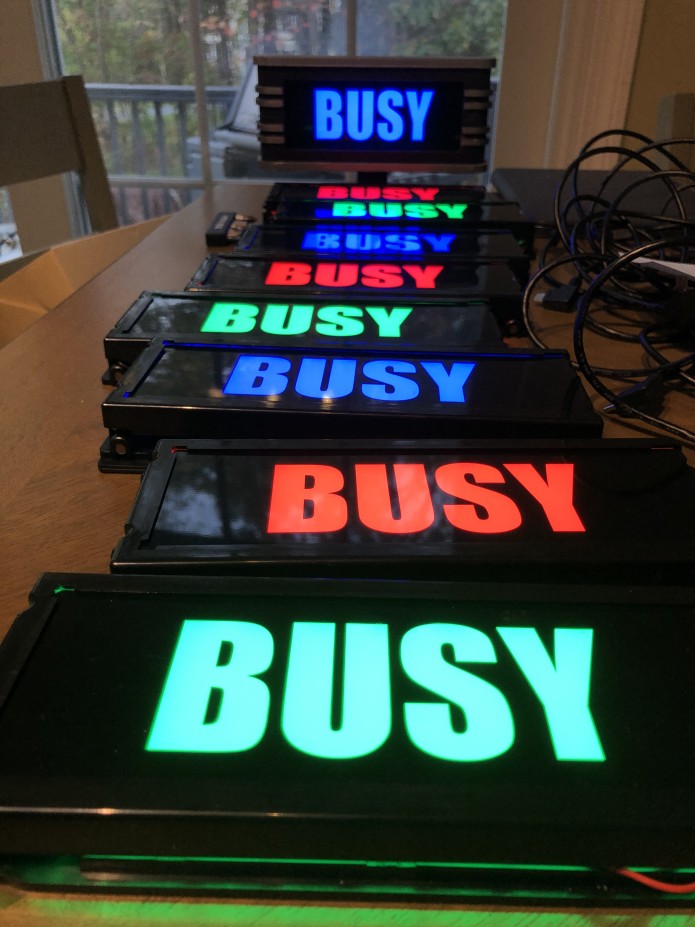 ____________________________________
October 1 Update -- Digital Screen in Motion 
Hi everyone,
The BusyBox S beta testing production units are on the way ... currently stuck with FedEx ... but we expect it any day.  If those perform well, we are starting production.  That also means I'm working on the beta tester list this weekend or early next week.  
Have a great day everyone.  
Steve
____________________________________
Exciting Shipment from the factory on the way Monday. 
Sep 27, 2020
Hey guys, 
Sorry about not posting this on Friday ... we've been crazy busy.  We got this photo on Friday, it's some of the beta test sample products.  They are shipping to us Monday. ?
Have a great weekend (what's left of it). Keep busy!
Steve & the BusyBox team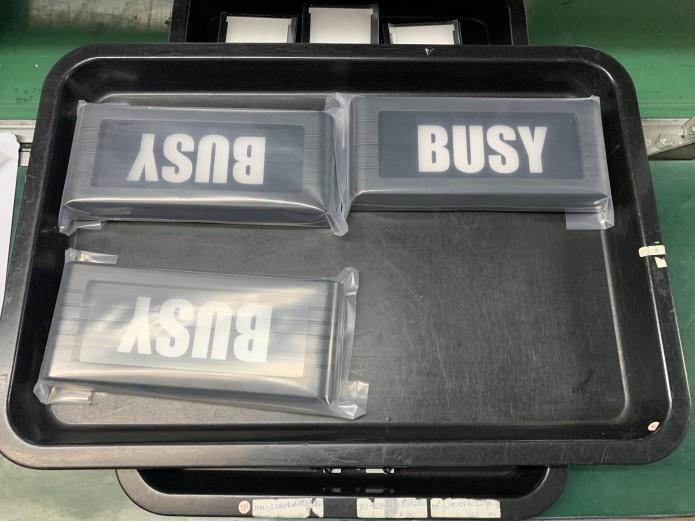 ____________________________________
Thank You! The Campaign is Closed. What's Next? 
Sep 20, 2020
Hi Everyone,
The "Campaign" portion of our launch is done.  We hit just over $315k which is fantastic.  Thank you!  Now the product launch moves to the "in demand" phase on Indiegogo and we start directing more sales to our website www.BusyBoxSign.com (where you can use PayPal and other forms of payment if Indiegogo didn't have your favorite method to pay).  
For the team it's full-speed ahead (still) on finishing the prototypes and getting Beta Tester units out (this week with any luck) and then we confirm the BusyBoxes are ready to ship.  Before we start shipping, you will get an email from us confirming your ship-to address.  We'll be using a platform called "Backerkit" to help show your full order and combine your shipping.  [Something Indiegogo can't do ... and so we have to pay extra for, which is so silly. Sorry, I can't stop grumbling about Indiegogo's lack of a typical "cart".]  With Backerkit you'll see everything you ordered and we can then combine your shipping and save everyone money on shipping. 
The BusyBox team is continuing to develop the products (7 days a week is our current pace, because we are having fun) and drive awareness of the product, so you will continue to see ads on Facebook, Google Adwords, YouTube and more. Hopefully, we'll get a feature in a magazine, or one of the morning shows, and we'll get some great visibility from that.  Our goal is to keep growing sales so we can continue to fund and develop new ideas (we have a few queued up) for BusyBox owners --  current and future.
Monday we will raise the prices and push out the shipping date of the newest orders.  We are going to reserve some of the post-campaign production for our website sales and for some of the big online retailers.  We'll have Early Bird, pre order prices a bit longer, but soon the retail prices will hit ... Amazon/BestBuy/B&H/Walmart/etc. have gotta get paid too, it's only fair.  
For the rest of the year we'll continue to update this space.  But the BEST way to keep in touch if you're not already getting emails from us is to make sure you're signed up for our email Newsletters.   Below is an easy way to add your email address to our newsletter, which will feature product updates, productivity articles and stories about how others are using their BusyBox smart signs. 
Note: If you're looking at this update in your email, and not online, the "Subscribe" box has been removed by Indiegogo.  Apparently Indiegogo removes the link in the email version of the updates posts.  BUT, you can sign up by going to our home page, scroll down, and click on the "stay up to date" link to add opt in to our email list.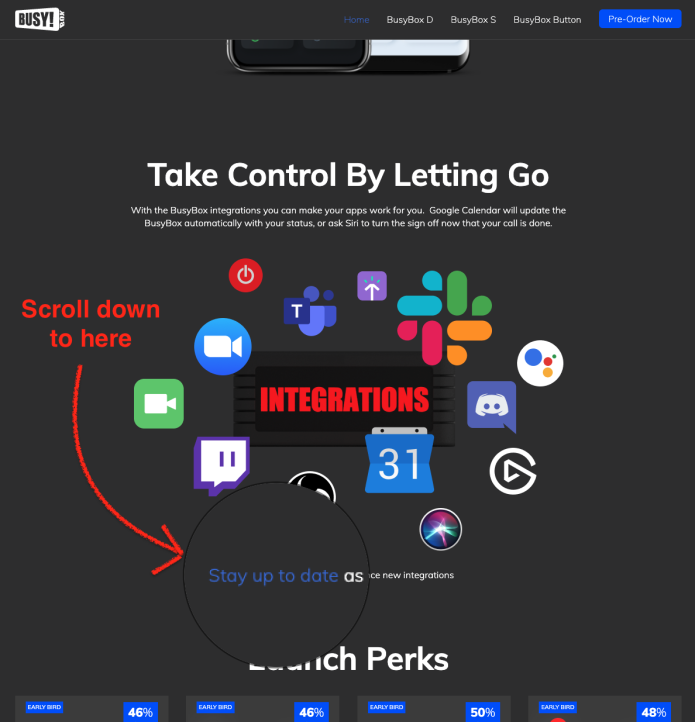 Thanks for your support and we'll keep in touch.  Have a great day!
Steve & the team 
PS Thanks again... and again... and again. :o) 
____________________________________
Factory Video
Happy Friday from the factory.  Testing the side buttons on a BusyBox S.  Have a great Friday!
____________________________________
We forgot something big! And today's factory pic. 
Hey gang! 
Well, we forgot something big ... celebrating hitting $300K in contributions!  We've unlocked the desktop app.   We think you're going to love having that handy control on your computer.  I know I will.  Thank you everyone!
Prices go up on Monday. Tell all your friends who may be interested in a BusyBox smart sign, "prices go up soon."  
And, last but not least, a quick show-and-tell for today.  A photo of the PCB Assembly.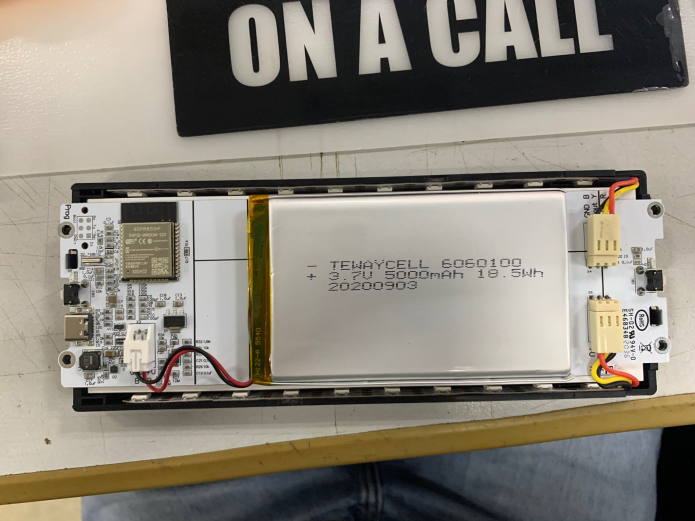 Right now, as I type, I'm testing the 5,000 mAh battery and so far the BusyBox Standard has been running non-stop for a little over 84.5 hours on a single charge ... and it's still going strong.  
We hope you like the updates. Have a great day and keep busy,
Steve and the team
____________________________________
We LOVE seeing BusyBox come to life ... & gotta share.
Sep 14, 2020
Hey gang!  We hope everyone is doing well.  More photos today.  Just because we love to share. 
Today, test shots with the plastics molds for the covers.  We'll have more posts coming this week as things are really cooking at the factory (and with the software).  Please share it with your friends ... if you think they'd like to get in on the BusyBox Early Bird prices.  
And... Oh boy!! Neodymium magnets are strong!  Check out the video. ;o) 
A REMINDER:  This week is the last week before prices go up.  
Enjoy and keep busy,
Steve and the team.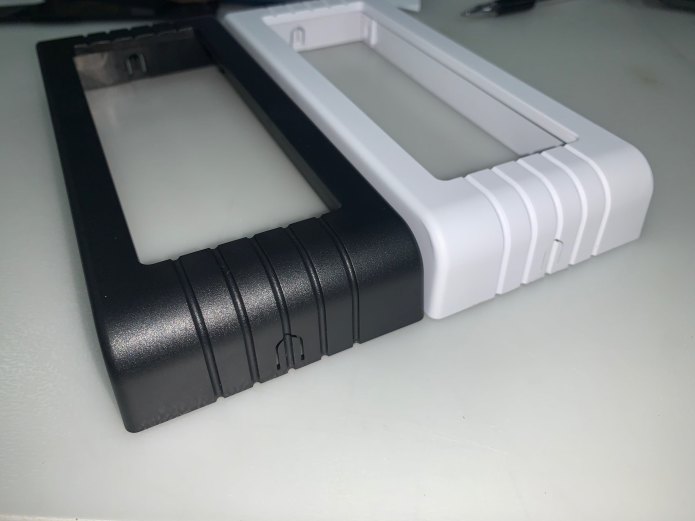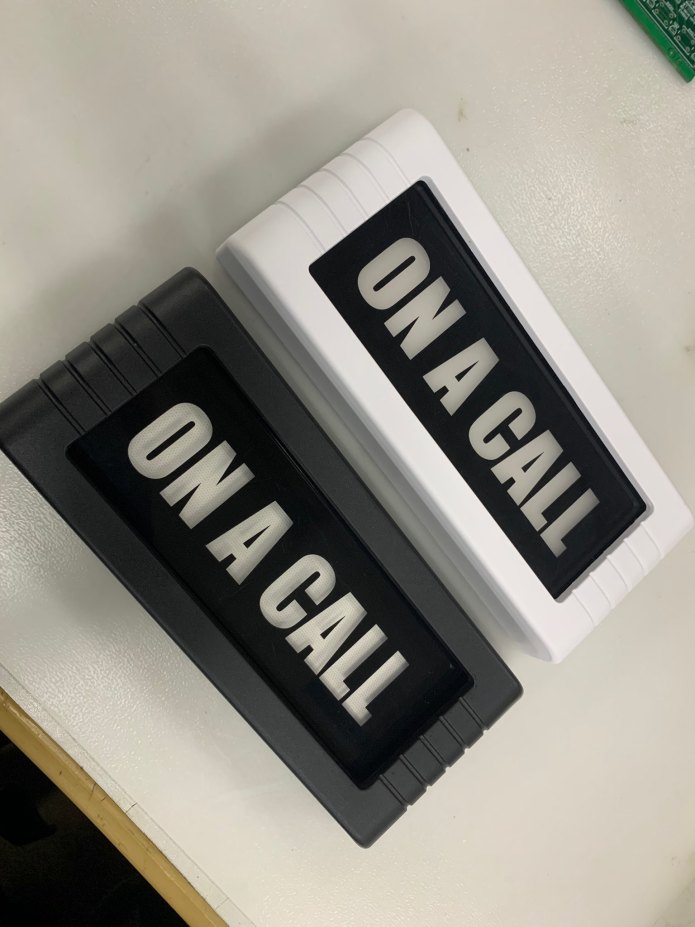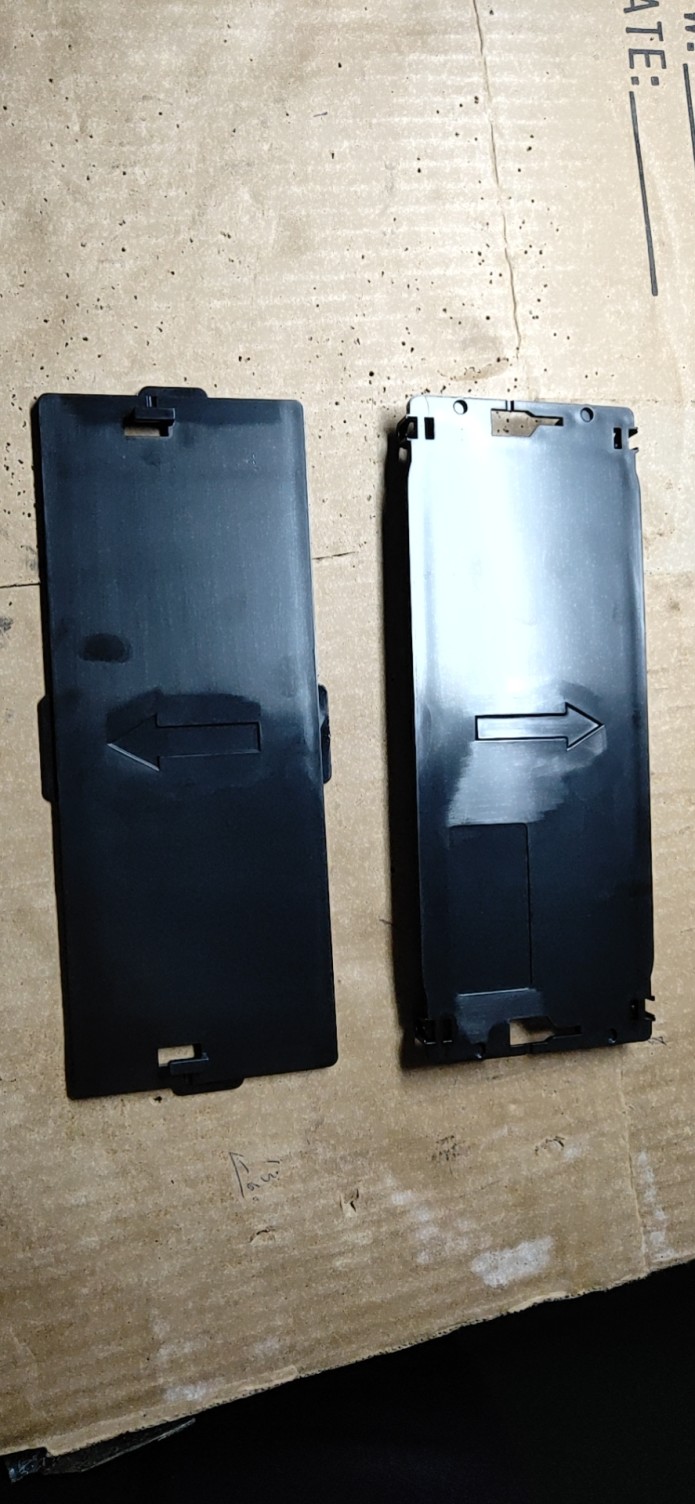 ____________________________________
Weekend Update - We Learning From Teachers & Plastics Reveal 
Hi everyone,
Teachers are advising us that a BusyBox smart sign is a great way for you to let your students (and the house) know that it's class time, or study time, and that everyone needs to respect that boundary.  Signaling that it's class or study time is a great way to improve learning at home and/or homeschooling.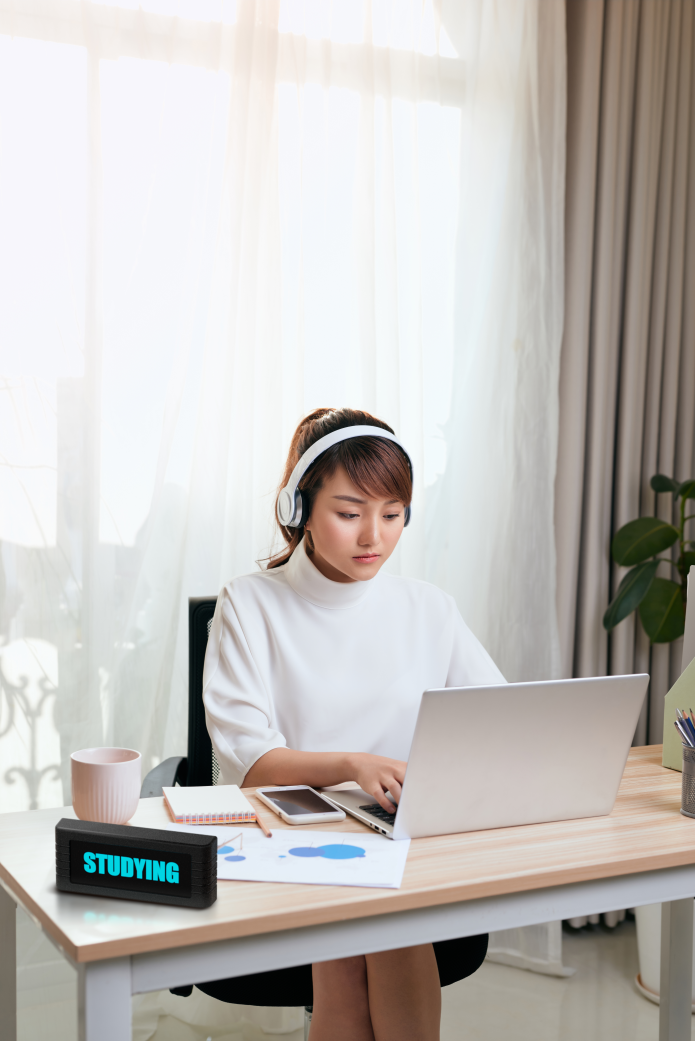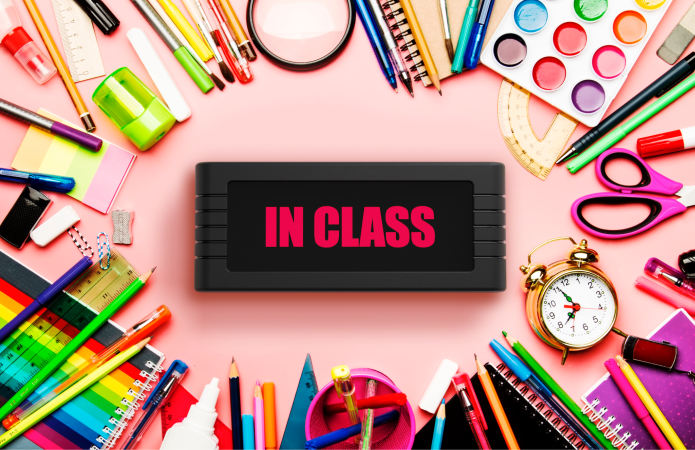 We are trucking along building tooling and PCBs and plastics and getting ready beta testing samples to go out.  Next week we'll start sorting and organizing the beta tester list.  Make sure you're on it (just post in the "comments area") if you want to get on the consideration list. 
For today, here are some "newborn" plastic shots.  The parts are not textured yet, so they look a bit shiny for now, which is normal.  Check 'em out.  They get textured as the last step before we go into full-blown production. 
Have a great weekend and don't forget to share your excitement about BusyBox with the world.  It helps a lot!  We are SUPER close to $300k and that unlocks the desktop apps.  Woot!!
Here is the link to share the campaign.  www.igg.me/at/busybox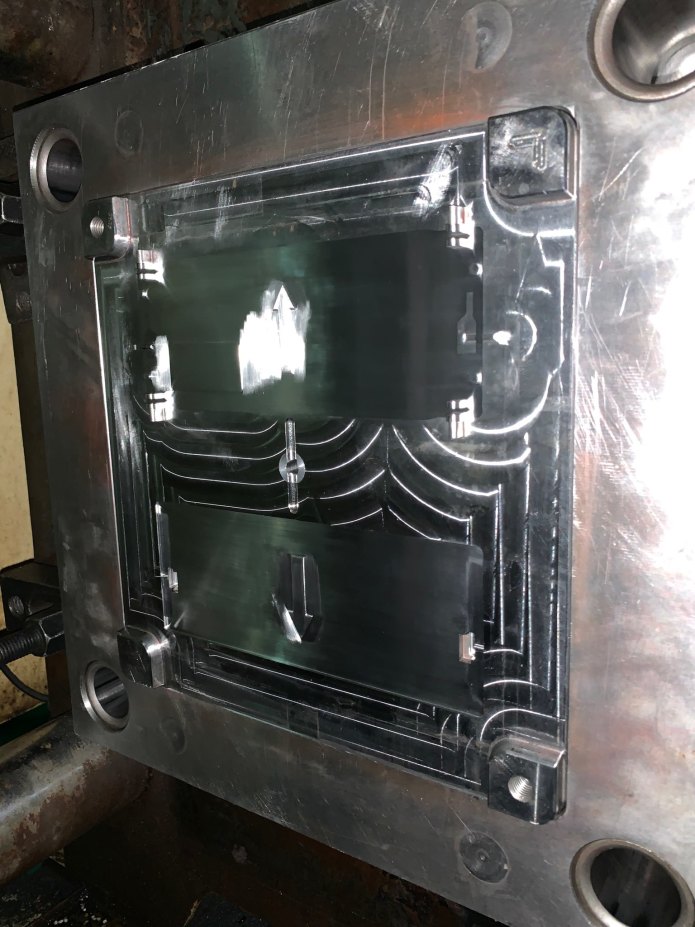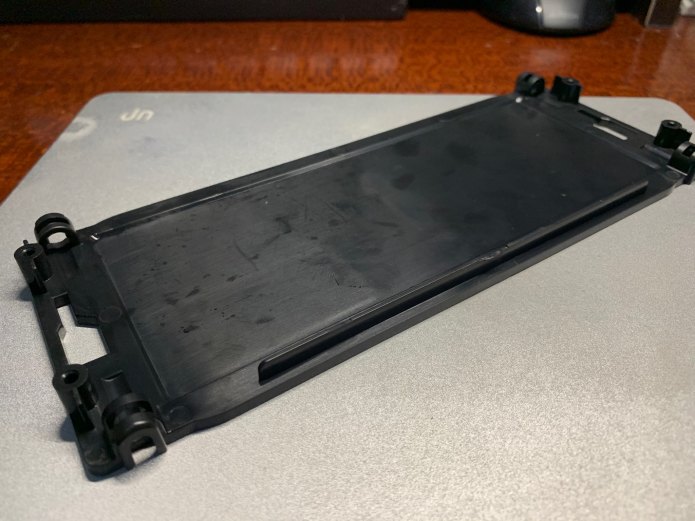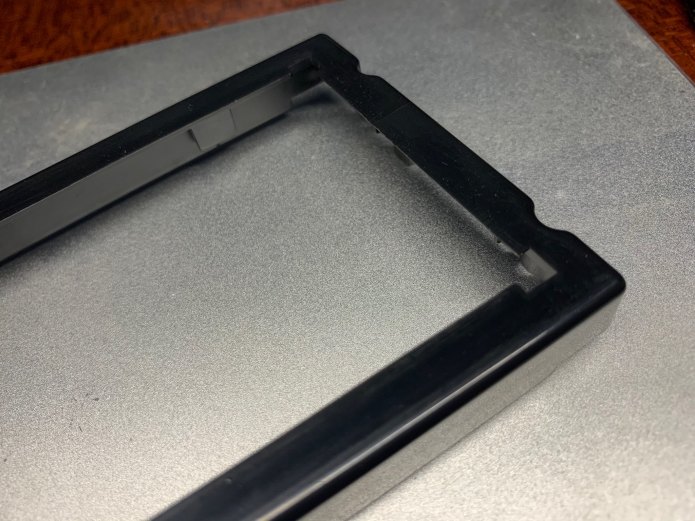 Thanks for your support.  More updates coming so stay tuned and keep busy,
Steve & the BusyBox team
____________________________________
BusyBox App Sneak Peek & $300K Unlock 
Sep 8, 2020
Hi everyone, 
It looks like we are going to unlock the $300K desk top app (we could use your help to ensure it happens ... just share our campaign.  It helps a lot.
We often get asked, what makes BusyBox a "smart" sign? 
The App! 
Acting as an extension of your schedule, your BusyBox smart sign integrates with all your favorite Apps automating messages that signal whether you're "BUSY" or not.
Today we want to give you a sneak-peek and very-early-stage walk through of the app ... via a kind of long video (5 minutes, 48 seconds is a long video, we know, sorry).   It's only a preview of the BusyBox App, but it gives you a taste of what's to come:  (yes, it has dark mode too) 
Please feel free to share this with all your friends.  If you want to easily share the campaing page, you can click on the Facebook link at the top right of the campaign page, or send someone this link:
www.igg.me/at/busybox
Thanks!
Steve & the team
____________________________________
Today I Learned - TIL
Sep 1, 2020
Hi everyone,
We interviewed a business owner last Friday who's getting BusyBoxes for his entire team.  We asked, "Why?" He told us that he's seen firsthand, and studied, how small interruptions can really slow him down, and slow his team down, throughout the day.   He sent us on a research project/mission and the results were really surprising.  So we thought we'd share them with you.
While some of this may or may not apply to you (or me) it's very interesting to learn how disruption can really slow you down, and that can impact your work-life balance.  Even if you cut these numbers in half, working to improve (reduce) distractions can be a big win.  
Among other articles we found great information like this, from trainingmag.com...
Numerous studies have shown the impact of frequent workplace interruptions.  I suspect the effects of interruptions on performance and health may have increased even more by now, but without further evidence, let's just consider these facts:
People spend an average of 11 minutes on a project before they're interrupted. It takes them on average

 

25 minutes to get back to the point they were at before a distraction, according to a UC Irvine study.
Employees in cubes are interrupted 29 percent more often than people in private offices, the same UC Irvine study finds.

 

(Get a BusyBox Stand for these folks)
Even after a 2.8-second interruption, subjects in a study doubled their error rates. And their

 

error rates tripled after a 4.5-second distraction, says the Journal of Experimental Psychology.
Workers who are frequently interrupted reported 9 percent higher exhaustion rates, almost as high as the 12 percent increase in exhaustion due to work overload, states the International Journal of Stress Management.
The same publication attributed a 4 percent increase in physical health problems, such as migraines or back pain, caused by interruptions.
The effects of interruptions on workers' productivity, energy, and work satisfaction cost an estimated $588 billion a year in the U.S., according to the Basex Research.
The campaing continues to march on ... PLEASE spred the word. 
We are starting to build the first 20 pilot units for Beta Testing next week.  If you're not on the list, just post in the "comments" section here "I volutneer to Beta Test" ... or do something funnier or more precise.  
Keep busy!
Steve & the team
PS Soon we'll be posting interviews we've done with a school teacher and work from home parents who feel BusyBox is a great way to improve the learning zone at home. 

____________________________________
First Production run SOLD OUT! 
Thanks for a great "close" yesterday!  We hit the $250k UNLOCK goal for the Table Stand & Mic Stand around 10PM Eastern, which is great.  BUT that meant that many folks who want a Table Stand didn't know we made it.  So we decided to extend the campaign for the weekend to let people buy the Table Stand.
 
The strong push meant that our first production run of BuysBox's sold out completely.  That's a good thing. As we tallied the results this morning, we realized that we needed to reset the ship date for all new orders after 8/20 to November.  Do we think we can beat November? Yup.  But we'd rather play it safe in case we get a strong push as the Back-to-School buyers get BusyBoxes for their at home and hybrid students.  We have been told that at-home teachers think BusyBox will be a great way to create an interruption-free zone at home for kids to study, and remind their family they are "in class" at certain times of the day.
 
So, if you ordered before 8/21, you're still on the October shipping schedule.  If you order on or after 8/21 you're on the November shipping schedule.   We also raised price a bit closer to our retail price level, and we are still offering a good discount for a while longer. 
 
We also came up with a cool ... and FREE ... perk that we'll be posting later today.  We'll be creating a desktop app if we hit ... when we hit ... $300k in funding.  That means you'll be able to easily control you BusyBox sign from your laptop along with your phone and the BusyBox button.  
 
Thanks for your support!  
 
Steve and the team. 
____________________________________
Stand Unlocked & More Time :|: New & Free Perks Coming
Aug 21, 2020
Hi everyone,
We unlocked the BusyBox Table Stand and Tripod Mount just 4 hours ago.  The campaign was due to end and we were reminded by a few super nice backers that many people on the East Coast, international customers, and people who ordered a while back and didn't look at the campaign tonight, might be bummed that they couldn't get the best prices on the stand.  
So, to give people more time we looked into extending the campaign through the weekend and decided to go for it.  Then, we looked a little deeper and realized that extending for 30 days might be an even better idea.  AND we cooked up some really cool (and free) upgrades that we can fund if we get to $300k (details coming in the morning).  
Extending the campaign 30 days does not change our schedule.  It doesn't change our ship date.  And for the weekend we are not going to change prices.  Next week prices will go up a little bit further, but we want to give everyone a bit more time to get their Table Stands.  
Thanks for your support!
Steve & the BusyBox team. 
____________________________________
$250K!! THANK YOU! Table & Tripod Stand UNLOCKED 
Aug 20, 2020
Thank you everyone! 
We've crossed $250k that means we've UNLOCKED the Table & Tripod Stand.  This was one of our most requested add-ons and we are so stoked to be able to get to work on it Monday.  
The stand allows you to put the BusyBox on a table next to you, or on a shelf so that it sits up high and easy to read.  But it has a secret feature built in as well.  If you screw off the base, there is a threaded insert for mounting the stand on a tripod.  Cool right?   And yes, it works with the BusyBox S and the BusyBox D.
To get the stand, you'll need to do a new order, but don't worry about the extra shipping, we'll consolidate your products when we ship so you won't pay an extra penny over what we pay for shipping.   If you need two, you can look for the "add-on" in the checkout process, or place two orders.  Yeah, it's strange to have to write that, but it's the Indygogo process ... we know ... we wish they just had a standard shopping cart, just like you wish they had a standard shopping cart.  Someday they will! #wecandream 
Thanks!
Steve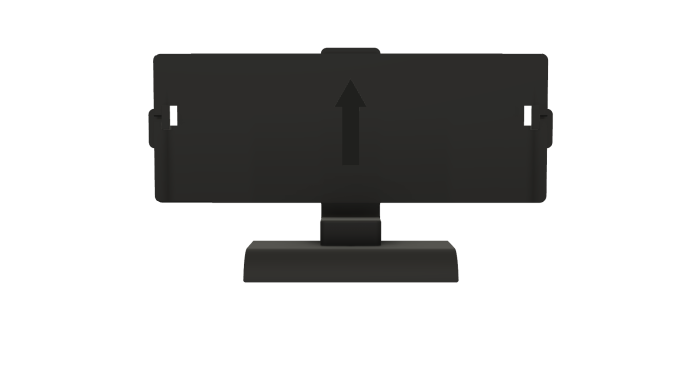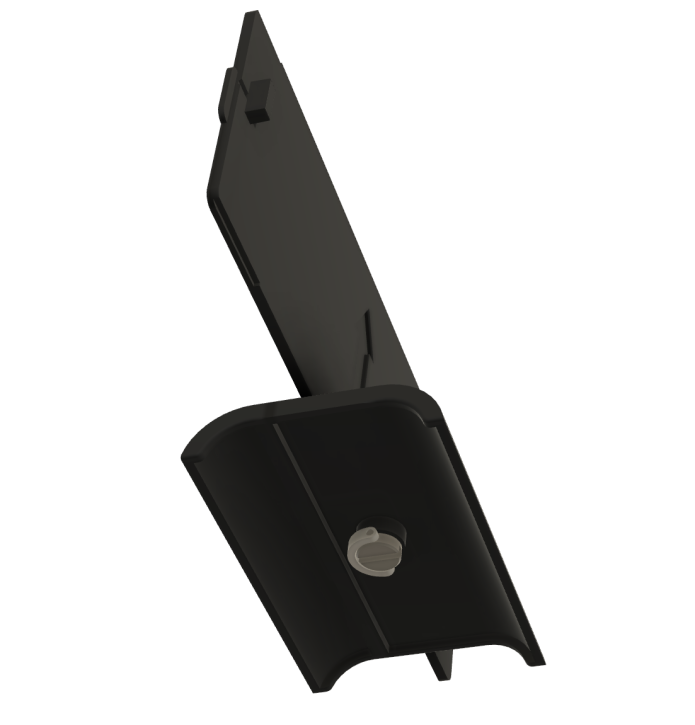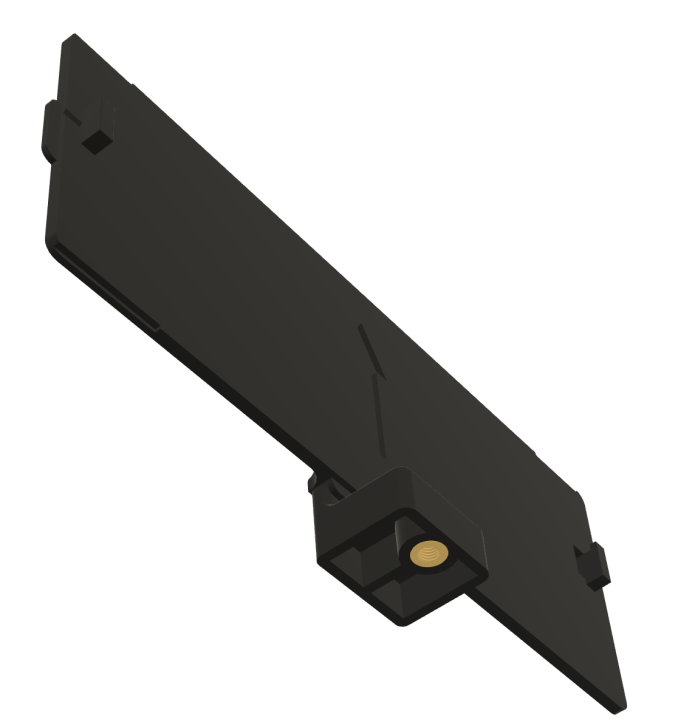 ____________________________________
Today is the last day! +++ Pro Tip
Aug 20, 2020
Hey everyone,
We know most of you reading this are already supporting the campaing ... a BIG thank you for that. 
Some of you are following the camapaing ... still undecided on which model you want.  This is a reminder that today is the last day of the campaign.  Prices go up tomorrow.  If you're interested in getting the best possible deal, today is a great day to support the campaign and save yourself some money. 
Remind your friends by forwarding this email if they are still undecided as well.
Thanks and keep busy,
Steve & the team
Pro Tip:  Use light colors Green, Yellow and Red to indicate your working status.  Green = okay to come in but kind of busy right now; Yellow = important interruptions only; Red = no iterruptions please.
On a conference call but just listening, set the light to green to let your family know they can come in if they need to ask you something.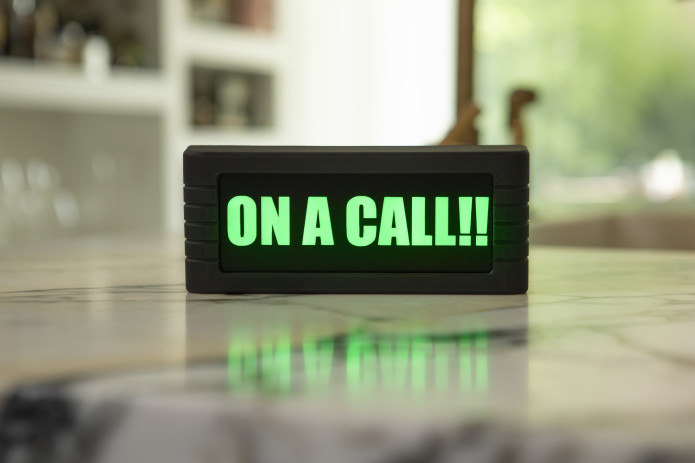 ____________________________________
Help Us Decide ... Vote Today. 
Aug 17, 2020
HELP!  We want your help shaping the future of the BusyBox Standard. Vote for your TOP 6 messages here:
https://forms.gle/fGj51nLsf4pLTui17
Our BusyBox early VIP supporters have already helped shape the messages, and now we want the entire community of owners to vote.  
All you have to do is click on the survey, choose the messages you'd like to see most with the BusyBox Standard's included message kit, and we'll tally the results.  This is a fun part of supporting a new business, you're helping to shape the design of the product. 
Thanks for your help. 
Steve & the BusyBox Team
PS Less than 4 days left in the campaign.  Get in now before the door closes.  
____________________________________
20 Units for testing underway
Aug 15, 2020
Hey everyone,
We're down to less than one week on the campaign.  We're hoping that everyone continues to spread the word and help others find us.  We want your friends and family to be able to save money now with their pre-order before prices go up after the crowdfunding is completed.
A bit of fun news to share too.  We signed off on building the first 20 units last Friday.  Half will be for the Engineering team and half for Beta Testers.  We've got a list started of people who've volunteered to be beta testers.  If you want to be considered as a beta tester, please post a comment here and we'll add you to the list.  All you need to post something ... like "add me" or a "I'll do it" or "I volunteer" and we'll add you to the list. We won't be able to use everyone on the list for this run, but maybe on a future wave.  BUT...  we want to get a lot of different testers to choose from as we bring the products to market. 
Thanks everyone!  
The BusyBox Team
PS Please don't forget to share the campaign!  It helps a lot and it's simple to do. Go to the campaign home page and hit a share button ... or all of them ... see the image below.  Thanks for supporting small business and startups!
____________________________________
$200K today!
Aug 9, 2020
Thanks to everyone who helped us achieve this super cool milestone.  We're looking to unlock the table/tripod stand soon.  
After that, we'll unlock WiFi!  Yup.  We have a plan to unlock WiFi in the BusyBox S and the BusyBox D.  That means you can signal the kids "Dinner is at 6:00... Pizza" from the office, and so much more.  
Remember, prices are going up tomorrow so please spread the word quickly for those who want a BusyBox at the lowest possible prices.  
Thanks for your support and keep busy,
Steve
____________________________________
Pricing Reset Coming
Aug 8, 2020
Hey everyone,

We hope everyone is keeping busy.  We've been hard at work writing software, working on marketing (spreading the word) and getting the plastic molds done.  We're also getting all the parts we need for the first 20 "production intent" units, which some of you kindly volunteered to help beta test.  

We're closing in on $200k goal and testing ads so we can rampup advertising for the two-week push to the end of the campaign.  As part of the plan, we are going to start increasing pricing on the BusyBox S and BusyBox D so that we are closer to MSRP by the time the campaign ends.  
You guys got the early supporter pricing, so you got the best pricing of all time, and we thank you for your support. Nowe we move to more of a "normal" operating price so that we can continue to fund awareness and get more people interested in the BusyBox product line.  

Want to help out the business and your friends?  If you have friends or family that might want to get a BusyBox, tell them to make their purchase now.  The longer they wait, the more they will end up paying for the BusyBox sign of their choice.  FWIW, the accessory prices will stay the same. 

Thanks for your support and stay busy,

The BusyBox Team
____________________________________
What is the "wall mount" feature?
Aug 1, 2020
What is the "wall mount" feature?
The wall mount makes recharges easier.  Here is a quick overview video I shot to show the wall mount feature and how the covers come on and off.
FWIW, This was shot with one of the original BusyBox prototypes.  I think it's #4 or #5.  I'm still using it on my door.  It works great. 
The wall mount is held on with 3M Command Strips (the velcro-like kind) so that, if you ever want to move your BusyBox mount, you can do so without damaging the door, the paint, the wall ... any surface really.  
Enjoy and hit us up with any questions you may have.  Stay busy,
Steve
____________________________________
"Add-on" Work Around - A way to hack Indiegogo's cart
Jul 27, 2020
"Add-on" Work Around - A way to hack Indiegogo's cart
____________________________________
$100k in half a day. Wow!
July 21, 2020
$100k in half a day. Wow!
Thank you to everyone who's backed us with your purchase.  It's truly amazing to have your support.  We're unlocking the additional designs for the covers as I write this.   
Stay tuned and check out the new stretch goal.  A table + tripod stand. 
Have a great day!
Steve & the team
____________________________________
Are you using Apple Pay? Add ons solution. 
Jul 21, 2020
From one of our supports, Brian R...
"FYI folks....The trick is if you use the Apple Pay option to contribute, it will NOT show you the page where you can add the button to the order as a perk. Apple pay just pays for the order in one simple click.

You have to click the other "continue to payment button" and add your credit card info manually...then there will be an option to add the busybox button as a perk to the same order."
Thanks for the help Brian! - Steve 
____________________________________
BusyBox Button is an "add on" to purchase
Jul 21, 2020
Hey Everyone,
The BusyBox Button is an "add on" purchase.  So you need to pick your BusyBox or BusyBoxes and then, when you're checking out, add it.  On a phone, you may have to scroll way down the page to find it and add it. 
FYI,
Steve 
____________________________________
SHIPPING - IMPORTANT INFO
Jul 21, 2020 
Please note, depending on the mix of what you buy, shipping can be reasonable to very expensive.  The reason for this is that the Indiegogo system isn't great with consolidated shipping. 
What we are going to do about it is this, once the campaign is done and we see our mix of orders, we'll redesign some of the boxes to allow for more efficient shipping of bigger orders.  That means we can get much better shipping rates and we will pass those on to you.  We are not in this to make money on shipping, so we will pass all the savings right back to you good people.  
I hope that clears things up on shipping and how, for some orders, it grows like crazy as you add on  items.  You can purchase with confidence that we will do our best to make sure the shipping of big add on orders gets corrected after we get a tally of everything we're shipping.   We don't have Amazon's shipping power, but we will do the work to make it the best possible prices, and pass the savings to you when we get to actually shipping the products. 
Thanks for supporting us, Indiegogo and small businesses everywhere,
Steve